Have you watched "The Hundred Foot Journey," a beautiful tale of Indian cuisine? Are you curious to see how can taste the most authentic edition? If you you are not going soon to India – you can go at least to Mokotów in Warsaw, where you can taste the real Indian food.
We did not expect that in such a modern building may be in place so cozy that automatically transports us through time and space to India. The beautiful interior of the restaurant Bombay Masala, filled with lights and flickering candles, is especially charming after dark. On the patterned tiles start fires then dance: anything here because not cooked on ceramic plates, but in the living flames.
Brought from afar chefs are available burners, over which perform large pans amazing aerial ballets. There is also a special tandoor oven, which is used for baking naanów and earlier zamarynowanych meats heeled special sword – it's great, filled with vivid flames clay cylinder to which our eyes wander clear pancakes, and they come out charred, covered with brown blisters pies. All these processes of cooking, baking and frying can be observed – because the kitchen is glass and cooks do not have secrets from us.
For us, Poles – usually cost-effective in adding spices – the Hindu performance is a lesson sowitego dosmaczania. Peering through the glass because you can not miss the big trays with containers filled with diverse, intense color powders. They – chili, cumin, turmeric, nutmeg, cardamom, cinnamon, saffron – here are the most important. Smell from the entrance of running our curiosity and salivary glands.
I have already become active in given at the beginning of beverages: we order because spicy warming tea with citrus and masala chai – a blend of black tea with spices (ginger, cardamom, cinnamon) and milk, you get some sweetened. Who loves julep should be ordered, and the next – or for dessert – be sure to put a glass of one of the flagship Indian drinks, or mango lassi: dense, orange, aromatic, super sticky and sweet.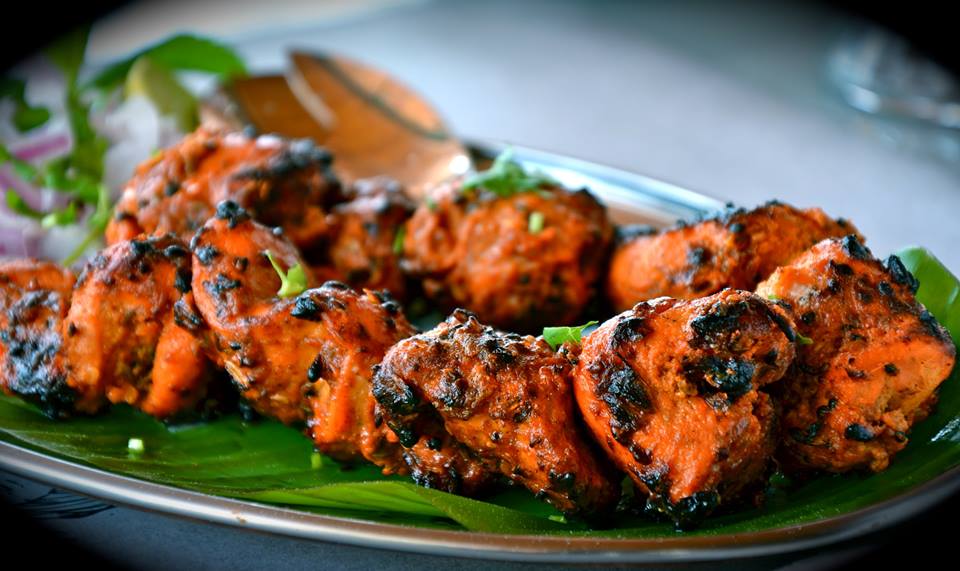 Fortunately the dishes that we order, are distinct in taste – sometimes neatly sharp – so milky drink sugar acts as a refreshing wrap raised taste buds. When ordering dishes focus on the classics of Indian cuisine – both meat and vegetarian – remembering how generous portions are usually (and as part of our dinner we ordered sparingly together to take away).
We start with mutton samosa – a ravioli stuffed with lamb and vegetables, served with refreshing yogurt with chopped vegetables and fine, in homemade paneer tikka – fresh white cheese marinated in spices and roasted in the tandoor. Especially tastes us the other side dish – cheese has a perfect consistency, pleasantly resists the teeth and is masterfully flavored – spicy but not too spicy, perfectly matches a set of domestic czatnejów (min. Including lime and mango!) That we were here Greeting.
For the main course we get chettinad Murgh – chicken curry in a traditional South Indian style and vegetables Dewani handi, stewed spinach – coconut curry sauce, served with basmati rice and bread from the tandoor oven. Aromatic sauce underlines just how well-cooked poultry is – is supersoft, yet compact, and the addition of fresh, crispy coconut podprażonego in spinach sauce altogether raises our heart.
There remains for us nothing but order dessert – this time it will be a race malai: cheese balls in saffron sauce and phirni: semolina cream with almonds and raisins. We expected the explosion of overwhelming sweetness, meanwhile, got a very balanced, soothing milk compositions that aroma very gently remind oriental perfume: discernible notes of saffron, rose, almond.
This reflects well on the Bombay Masala cooks who know how to compose a harmonious, but very authentic. How very authentic? When we ate Saturday dinner tables around us they are filled – most of them took a big, multi-Hindu families looking to completely satisfied with the food. Could there be a better recommendation for an ethnic restaurant?
Photos from: www.facebook.com/bombajmasala.mokotow/